Modern RS# Ping Pong Folding - Black by RS BARCELONA
Order in the next
to get it by
3 Great reasons to buy from us!



Very Functional, ultra Design.

The RS#folding is a new folding ping-pong table concept. The RS#folding restores design to its rightful place and combines the functionality of a folding ping-pong table with the signature design of RS Barcelona products. Because design needn't be incompatible with functionality and playability.
"The supplier does not currently have the black ping-pong table in situation. Here is the white waiting for a new photo shoot."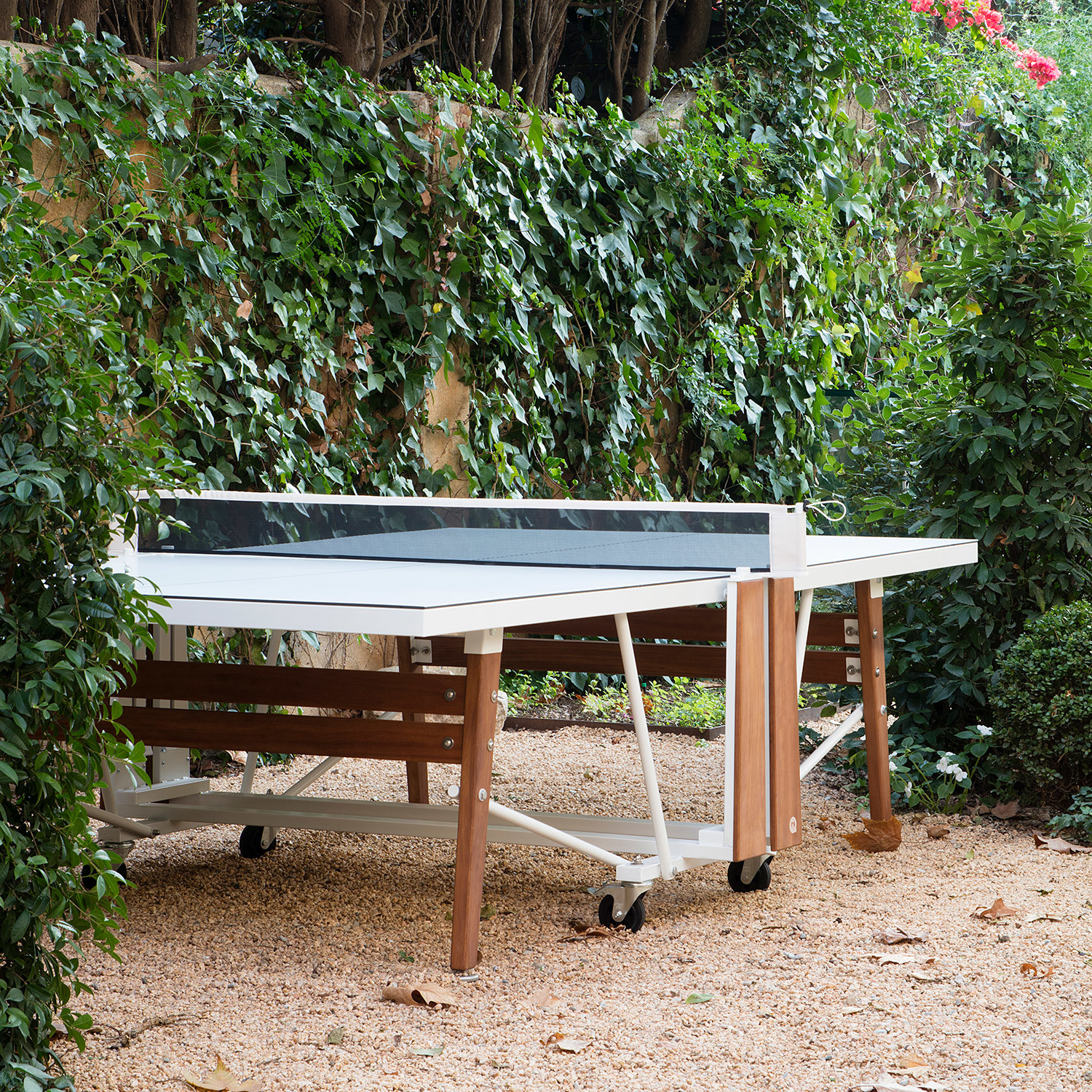 The RS#folding boasts standard ping-pong table measurements, while its surface, design and structure provide total playability, stability and toughness.
Once folded, using a simple mechanism, it takes up little space, and you can easily move it to the most convenient spot thanks to its tough all-terrain wheels.

Features 
Indoor and outdoor use.
Structure: Steel With Cataphoresis And Polyester Paint 
Surface: High-Density HPL 
Legs: Iroko Wood 
References: RSF-2
Version: 108x60x30 in
Length: 108 in
Depth: 60 in
Height: 30 in


Black color
This product is subject to a 2-years limited warranty for manufacturing defects.
1. Order cancellations after 48 hours of placement will incur a cancellation fee of 10% of the order.
2. Orders requiring customization may not be cancelled.
3. Returns will not be allowed without prior written authorization from RS Barcelona and will incur a minimum 5% restock fee in addition to transportation fees.
4. Domestic transportation costs are not included in prices.
5. Transportation to residences includes first threshold inside delivery. Additional surcharges may be incurred if the delivery requires additional services or is located in a remote area. Islands are not included.
Delivery
Once you receive the package, please, check the package thoroughly and do not sign the POD if there is any damage on the package. Make sure to take pictures of the damages in case we have to place a claim to the carrier.
If you feel that it might be something wrong even if the package looks good, please Note "possible concealed damage" on the delivery bill and Accept the delivery.
Please inspect the packaging of your item(s) when they arrive, if you notice any damage you should make note of it when signing for delivery. If your item(s) do arrived damaged, please send photos to hello@luxebackyard.com and we will process an insurance claim on your behalf.
If delivery is refused for any reason other than damage, you will be liable for all true freight costs (to and from the delivery address) and a 25% restocking fee.
PLEASE DO NOT THROW AWAY THE BOXES (The original box and packaging must be returned in order to process a refund or a replacement order. No exceptions will be made.)
Returns
For RS BARCELONA, there are NO-RETURN policy if the product has been opened, the reason that we don't accept returns is that RS Barcelona products are packaged from the factory in large palletized boxes in a very concise manner. It's nearly impossible for a customer to put everything back in factory condition.
If the product is not opened, contact us, please be aware that there is a 25% re-stock fee plus transport fees to return items back to RS-BARCELONA warehouse.
If you have any questions related to your order, please don't hesitate to contact us!
---